What is MindWorks™?
MindWorks contains key nutrients that have been shown in
three clinical studies and dozens of laboratory studies to improve
short-term mental sharpness and focus and help protect against
age-related mental decline.*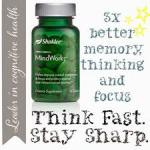 Scientific studies have shown the key ingredients in MindWorks
work in three ways:
• Immediate improvements in memory and focus*—3X better
than the control group**
• Protects against age-related mental decline*—a 30% reduction
in the rate of brain shrinkage, a common consequence of aging,
over two years‡
• Supports healthy circulation*—designed to help make key
nutrients available to the brain*
MindWorks is a revolutionary program that combines clinically
supported nutritional supplementation and brain-training
software to help your brain stay sharp and focused.*
What are the key ingredients in MindWorks?
MindWorks is an exclusive formula powered by the following
key ingredients:
Chardonnay grape seed extract—Only available to
Shaklee, MindWorks contains a unique Chardonnay grape
seed polyphenol blend created via a patent-pending water
extraction process that results in a 30X concentrate of specific
polyphenols.† These polyphenols have been shown in clinical
studies to be more bioavailable and impact healthy blood
vessel function.*
Guarana—We sourced a carefully selected guarana extract
that is prepared as described in several important clinical
studies of guarana—and our guarana extract has a naturally low
level of caffeine. Do not confuse our guarana extract with the
caffeine-spiked guaranas you may find in many energy drinks—
one serving of MindWorks contains less caffeine than a medium
cup of decaf coffee. Guarana has long been used traditionally by
Amazonian Indian tribes and has been shown to help improve
cognitive performance.*
B vitamins—The B vitamin combination in MindWorks was
shown to help protect against age-related mental decline in a
two-year clinical trial.‡
What is green coffee bean extract and why is it
used in MindWorks?
Research has identified specific polyphenols that have been
shown to protect neurons against oxidative stress, and influence
the levels of biochemical signals and growth factors that are
critical for the formation of new synapses. Green coffee bean
extract contains chlorogenic acid, a polyphenol, which has
been shown to provide this benefit. Green coffee bean extract is
less than 5% caffeine and does not make a significant caffeine
contribution to the MindWorks product.
Can I take more than 1 MindWorks tablet per day?
There is no known additional benefit in consuming more than
one tablet. In fact, the amounts of key nutrients in MindWorks
were chosen on the basis of their optimum response in clinical
trials and lab studies.
MindWorks
Think fast. stay sharp.
**At six hours versus control. †% by weight of monomeric flavanols compared to a fresh grape seed. ‡Based on a two-year study of 223 adults with mild cognitive impairment.
*These statements have not been evaluated by the Food and Drug Administration. This product is not intended to diagnose, treat, cure, or prevent any disease.
MindWorksTestimonials . . . 
Gloria's Story (as told by JFS) . . .  Gloria, an attractive, active and vibrant 88 year old has been a Shaklee product consumer since 2007.  She is a   huge Shaklee fan, always ceasing the opportunity to tell others about the benefits of Shaklee products.  She had been using Shaklee's Mental Acuity for quite a while, so I asked if she would be willing to be one of my MindWorks test cases for one month. Gloria was a bit hesitant to give up her Mental Acuity, but agreed to substitute MindWorks for one month.  The first two weeks or so, she didn't notice any real improvement in her memory, but then came week 3.  Gloria excitedly reported that she was remembering names of friends from high school that she hadn't thought about in years, names of old movies, actors and actresses and all sorts of things!  Very pleased with the results, Gloria has added MindWorks to her monthly Shaklee AutoShip!
Very Focused and Energized . . . I have gone to Shaklee Conferences for 20 years. Every year I tend to get overwhelmed by all the information, activity, stimulation and people contact. Each year getting somewhat more difficult as I age. In comes MindWorks!! I began taking it 5 days before the conference in Long Beach, and I will have to say that this is the first year that my brain hasn't "hurt." My head wasn't fuzzy like in the past! This was the first convention in years that I also attended Future Masters (an extra couple of days of meetings), so I thought I was going to be "wiped out" but I wasn't. In fact the opposite was true; I felt very focused, energized, and ready to go at the end of each day. Thank you Shaklee for once again adding an incredible, break-through product just when I needed it most!! It is going to be life-changing for many!!!  ~ Micki and Tom Roberts,  Arvada, CO 
Productive All Day . . . I started taking MindWorks a couple of weeks ago.   While I already take several other supplements, such as OmegaGuard, Vivix and Vitalizer, I noticed a difference right away in my ability to stay focused, learn new things at my job and be able to have all day long productivity.  I do not know if this new product is involved or not, but the dreams I have are very detailed and I remember them the next day. Not usually the case with dreams.  My job can be stressful at times, and I certainly take Stress Relief Complex as needed, but also taking MindWorks really helps me stay calm and stay focused on the task at hand. Terrific combination! ~ Sonia Les Powell, Georgetown, KY 
More Alert and Better Mood . . . I have noticed better memory, focus, alertness, energy, and mood. Love it! ~ Trudy Bledsoe, Nolensville, TN 
MindWorks Really Works . . . Normally, I am not a skeptic. But I was when it came to MindWorks; I wasn't convinced. Then I took the product. WOW!  I have always had an unusual amount of energy but never good focusing abilities.  The very first day that I took MindWorks with my morning shake, here is what happened.  We went to church at 8:30. After coming home and changing clothes, I moved all summer clothes to another closet down the hall. Then brought fall clothes back to our closet. Next I tackled cleaning out storage closet of clothes to donate.  Meanwhile, I did three loads of laundry. I then began the process of watering indoor plants. That takes a couple of hours by the time I trim and fertilize. After that, I watered the 6 big Boston ferns in the front porch and cleaned off the porch.  By now it is around 2:00 and I typed a three page letter to a cousin in a rehab center. Finally, I cooked a huge Sunday dinner for us.  The following day was similar in terms of energy, focus, and drive. I am accomplishing tons more than I used to and I am 69 years old. I cannot say enough about MindWorks; except to say….MindWorks really works! ~ Lyn Schloemer, Oxford, OH 
10 Years of Unbearable Stress . . . I tend to shy away from testimonials, because they are not scientific. Being in academia for over 30 years, I tend to think that only reports complete with empirical data published in peer reviewed journals have any validity. I found something that works so well that I'm doing what I never thought I'd do: sharing my testimony about Shaklee's MindWorks. 
First allow me to confess that I am the Queen of ADD and have been all my life. Where are my books? Shoes? Glasses? Sit still. Don't doodle! Squirrel!!! You get the picture. After a while one learns to live with it and exchanges the label "ADD" with "multitasking" to save face. My students still call me "Professor" which is a mystery to some – including me. 
My memory loss was really starting to bother me. I was pushing 60 and expecting some loss of cognition and recall, but I also knew I was dealing with issues far beyond that – and it frightened me. From age 46 to 56 I lived in an extremely stressful state: a divorce, losing home, income, dealing with a hormonal teen, caring for aging sick parents, and dying friends. It all came to a screeching halt when my only child, my son, was almost killed in a car accident. He was on life support for a week. My world stopped and I could not breathe. 
After three weeks of hospital vigilance we saw he would live and I found myself back in the classroom standing in front of my students who were waiting for the lecture de jour. Only one problem – I didn't know what I was supposed to be doing. I knew I was in class, but that was about it. It was scary. My therapist told me afterwards it was classic Post Traumatic Stress Disorder and it would take time for my memory to come back. Great. 
As the years went on, I saw my memory slowly resurfacing – to a point. But still I would say I was at half the recall of what I was before the accident. I had resigned myself to the fact that I'd have to use detailed notes to teach and I'd never remember a name even of a family member. Then MindWorks came along from Shaklee. 
The first day of taking MindWorks I felt a gentle mental awakening with more clarity but I wasn't paying too much attention. Then one day, the same week, in class I found myself on the other side of the room – totally engaged in the subject realizing I had just taught 30 minutes without looking at my notes! Next day – same thing! Whoot whoot!!! Later the next week I found myself working well into the afternoon and actually making sense which had become a rarity past 4 PM. Teaching in the morning was not just a preference – it was a necessity! But here I was: energy – clarity – focus! The results made me a believer!! 
What I noticed next came as treasured surprise. Along with all the stress of those hard years came a certain level of clinical depression. My doctors told me that the stress during those 10 years had caused my pool of 'feel good' brain chemicals to bottom out. I was given Prozak which turned me into a zombie; then Welbutrin which made me a raging lunatic, according to my son. I settled on St. Johns Wart much to the chagrin of my MD. She said it would never get my brain chemistry back to the high levels needed to feel joyful again. It helped a little, but I had resigned myself to never having those light peace filled feelings again. This past week I have noticed a joyful bliss creeping back into my mornings. Yes, there was a way out of the brain dead pit. For me, it was MindWorks. 
I do feel we have a natural ADD-ADHD product here. Of course we can't say that being laymen but it certainly appears to have properties to help. My son, Luke (23), said it made him feel anxiety at first but then he took 2 chewable CalMags and a Stress Relief with it, and had the same focus, minus the anxiety. How I wish I would have had this combination 12 years ago when he was started on Adderall. So many studies today link drug addiction to early use of ADHD medication as children. 
So there you go: my testimonial. I am sleeping better too. And my retention of facts and focus keeps getting stronger. They tell me that MindWorks also helps reduce brain shrinkage by 30% over 2 years according to the clinical study. That's impressive but right now I am just tickled pink to get my brain back!! ~ Susan Bartz Herrick, Fayetteville NC
Lighten Up . . . I noticed an elevation in mood. I never felt depressed before. I was just unaware of what it meant to feel "lighter." You know when sometimes people tell you to "lighten up," and you wonder why they said that to you.  Well, I truly feel "lighter," and I had not realized what it meant to "lighten up" until I started using MindWorks! ~ Mary Cardinale, Whitesboro, NY
Brain Clarity and Improved Eyesight . . . I was in a car accident 2 yrs. ago. From then on, I wondered what had happened to my mind; everything was so confusing! My first day with MindWorks felt like my brain got cleansed … clarity returned. The after effects of the car accident on my brain were gone. I think it is improving my eyesight as well. I had to use a magnifying glass for small print all the time and have noticed a huge improvement. Thank you Shaklee. ~ Mary Walter Butler, Baldwinsville, NY
Ellie's Story (as told by Vita Brooks) . . . While sitting next to Ellie on the bus at the Shaklee Conference, we talked about her opinion of MindWorks. She told me that she is 85 years old and that she has someone helping her in her Shaklee office. She looks great. She has no trouble getting around and her mind is sharp. She has used Shaklee products for many years.  She said she took her first tablet of MindWorks in the morning and then looked at her desk. There was a high pile of paperwork to be sorted and filed that was about 6 to 8 inches high. It had been there for a long, long time. She said normally, she would pick up something to be done and look at it, and decide she would work on it another day. Maybe tomorrow.  Ellie said that she didn't think too much about it, but through the day, she kept working away at the pile. Well by the end of the day, the pile was down to only a tiny stack. She said that MindWorks just helped her make decisions on the little things that mattered. 
Migraine – A Young Mother's Story . . . I have tried lots of things for migraines–ibuprofen, Tylenol, muscle relaxants with no relief. The migraines can last anywhere from a day to a week. I have a 1 year old daughter and it's hard to care for her when I'm sick. It gets so bad I throw up from the pain. Even light bothers me.  When I was at the Shaklee conference I took my first MindWorks tablet to see if I could see a difference in focus and concentration. I was suffering from a migraine that I had for a day and a half. After taking MindWorks, it took only 20 minutes and it was completely gone. MindWorks will be my "go-to" product from now on. ~ Rachel 
Parkinson's – A New Man . . . My husband, Bob, has had Parkinson Disease for many years. Lately much worse. In comes MindWorks. Amazing!  He has been having trouble focusing on computer work. Couldn't even do bills this past month. Also, he has been falling so much when he is trying to walk. Awful.  MindWorks for a week. Working on computer. Right now on tractor lifting logs from our drive from a mini tornado. He was up before dawn today, mowing our secret garden area! Shaklee has been a great help all along, but MindWorks is a miracle! His walking is something to see. He was walking on rubbery legs (his explanation) and as of this AM he is walking with long strides. ~ Jean 
shopping:  www.HiHoHealth.com